Population: 4,42 million (2017)
Area: 1,03 million km²
Capital City: Nouakchott


About Mauritania
Mauritania, officially the Islamic Republic of Mauritania, is a country in Northwest Africa. It is the eleventh largest sovereign state in Africa and is bordered by the Atlantic Ocean to the west, Western Sahara to the north and northwest, Algeria to the northeast, Mali to the east and southeast, and Senegal to the southwest.
The country derives its name from the ancient Berber kingdom of Mauretania, which existed from the 3rd century BCE into the 7th century CE in the far north of modern-day Morocco and Algeria. Approximately 90% of Mauritania's land is within the Sahara; consequently, the population is concentrated in the south, where precipitation is slightly higher. The capital and largest city is Nouakchott, located on the Atlantic coast, which is home to around one-third of the country's 4.3 million people. The government was overthrown on 6 August 2008, in a military coup d'état led by General Mohamed Ould Abdel Aziz. On 16 April 2009, Aziz resigned from the military to run for president in the 19 July elections, which he won.


Currency
The Mauritanian Ouguiya is the currency of Mauritania. Our currency rankings show that the most popular Mauritania Ouguiya exchange rate is the MRO to EUR rate.

Climate


The climate is characterized by extremes in temperature and by meagre and irregular rainfall. Most of Mauritania is located in the tropics, and the weather is often very hot, although night time temperatures can dip below 7°C and as low as freezing point in the Sahara during the early morning.

Languages

Arabic is the official and national language of Mauritania. The local spoken variety, known as Hassaniya, contains many Berber words and significantly differs from the Modern Standard Arabic that is used for official communication. Pulaar, Soninke and Wolof also serve as national languages. French is widely used in the media and among educated classes.

Economy


Despite being rich in natural resources, Mauritania has a low GDP. A majority of the population still depends on agriculture and livestock for a livelihood, even though most of the nomads and many subsistence farmers were forced into the cities by recurrent droughts in the 1970s and 1980s. Mauritania has extensive deposits of iron ore, which account for almost 50% of total exports. Gold and copper mining companies are opening mines in the interior.
The country's first deepwater port opened near Nouakchott in 1986. In recent years, drought and economic mismanagement have resulted in a buildup of foreign debt. In March 1999, the government signed an agreement with a joint World Bank-International Monetary Fund mission on a $54 million enhanced structural adjustment facility (ESAF). The economic objectives have been set for 1999–2002. Privatization remains one of the key issues. Mauritania is unlikely to meet ESAF's annual GDP growth objectives of 4–5%.
Oil was discovered in Mauritania in 2001 in the offshore Chinguetti field. Although potentially significant for the Mauritanian economy, its overall influence is difficult to predict. Mauritania has been described as a "desperately poor desert nation, which straddles the Arab and African worlds and is Africa's newest, if small-scale, oil producer." There may be additional oil reserves inland in the Taoudeni basin, although the harsh environment will make extraction expensive.
United Arab Emirates government, via its pilot green city Masdar, announced it will install new solar plants in the city of Atar which will supply an additional 16.6 megawatts of electricity. The plants will power about 39,000 homes and save 27,850 tonnes of carbon emissions per year.

Health


Life expectancy at birth was 61.14 years (2011 estimate). Per capita expenditure on health was 43 US$ (PPP) in 2004. Public expenditure was 2% of the GDP in 2004 and private 0.9% of the GDP in 2004. In the early 21st century, there were 11 physicians per 100,000 people. Infant mortality is 60.42 deaths/1,000 live births (2011 estimate).
The obesity rate among Mauritanian women is high, perhaps in part due to the traditional standards of beauty (in some regions in the country), in which obese women are considered beautiful while thin women are considered sickly.

Education


Since 1999, all teaching in the first year of primary school is in Modern Standard Arabic; French is introduced in the second year, and is used to teach all scientific courses. The use of English is increasing.
Mauritania has the University of Nouakchott and other institutions of higher education, but the majority of highly educated Mauritanians have studied outside the country. Public expenditure on education was at 10.1% of 2000–2007 government expenditure.

Human rights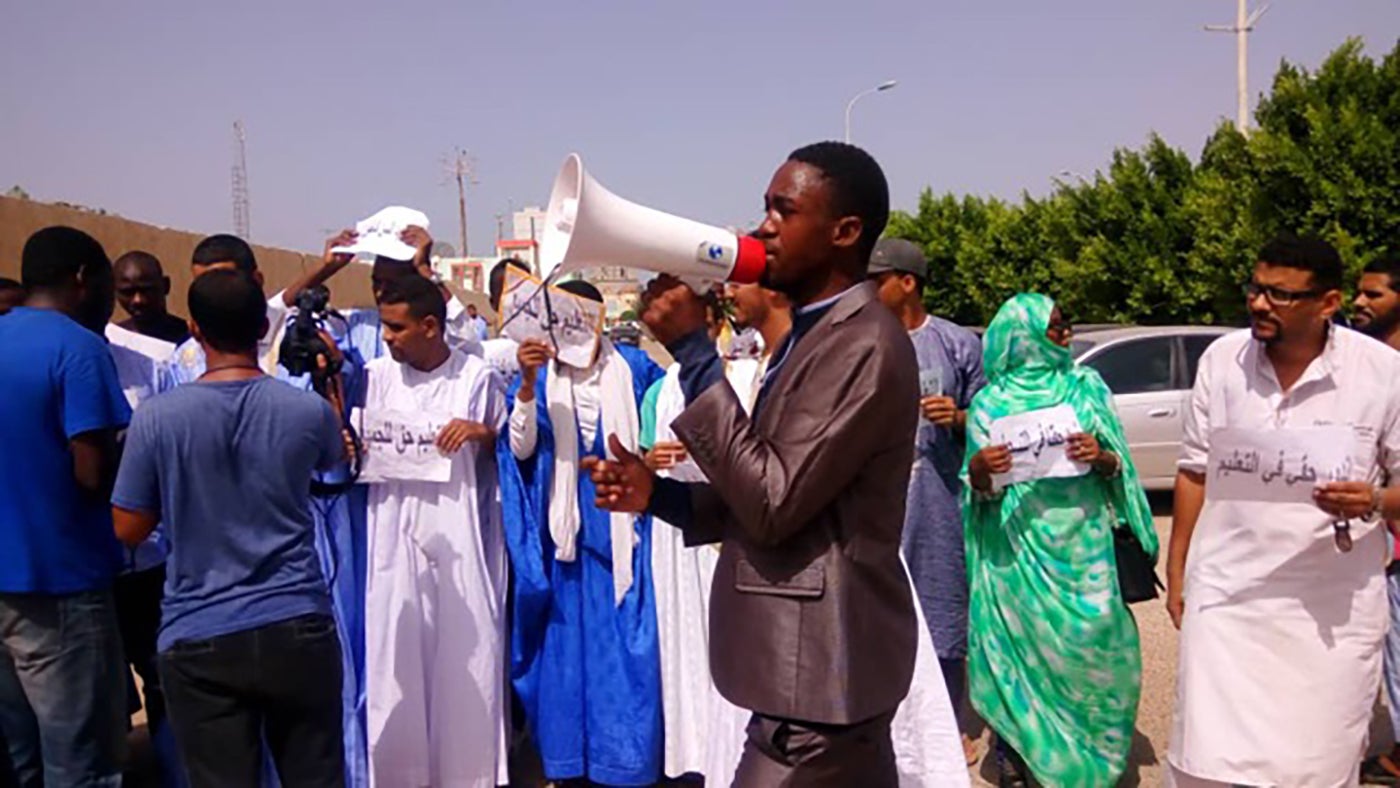 The Abdallahi government was widely perceived as corrupt and restricted access to government information. Sexism, racism, female genital mutilation, child labour, human trafficking, and the political marginalization of largely southern-based ethnic groups continued to be problems. Homosexuality is illegal and is a capital offense in Mauritania.
Following the 2008 coup, the military government of Mauritania faced severe international sanctions and internal unrest. Amnesty International accused it of practicing coordinated torture against criminal and political detainees. Amnesty has accused the Mauritanian legal system, both before and after the 2008 coup, of functioning with complete disregard for legal procedure, fair trial, or humane imprisonment. The organization has said that the Mauritanian government has practiced institutionalized and continuous use of torture throughout its post-independence history, under all its leaders.

Religion


Mauritania is nearly 100% Muslim, with most inhabitants adhering to the Sunni denomination. The Sufi orders, the Tijaniyah and the Qadiriyyah, have great influence not only in the country, but in Morocco, Algeria, Senegal and other neighborhood countries as well. The Roman Catholic Diocese of Nouakchott, founded in 1965, serves the 4,500 Catholics in Mauritania (mostly foreign residents from West Africa and Europe). There are extreme restrictions on freedom of religion and belief in Mauritania; it is one of thirteen countries in the world which punishes atheism by death. On 27 April 2018, The National Assembly passed a law that makes the death penalty mandatory for anyone convicted of "blasphemous speech" and acts deemed "sacrilegious". The new law eliminates the possibility under article 306 of substituting prison terms for the death penalty for certain apostasy-related crimes if the offender promptly repents. The law also provides for a sentence of up to two years in prison and a fine of up to 600,000 Ouguiyas (approximately EUR 13,804) for "offending public indecency and Islamic values" and for "breaching Allah's prohibitions" or assisting in their breach.

Stay safe

The area near the Western Sahara is heavily mined and travel through this area is highly unadvised. Border areas lining Algeria and Mali are notorious for banditry and jihadism. The one paved road coming from Morocco was especially dangerous at one point in time, being the site of jihadi and Al Qaida kidnappings. however, as of November 2015, the Mauritanian military keeps a tight hold on the highway from the border to Nouadhibou and on down to Nouakchot. If you travel by day and stick to these main routes, you'll have no problems. Daunting though it may seem, a bit of research and common sense will ensure a pleasant trip in Mauritania. Other than that crime is basically non-existent and people in Mauritania are honest.
Check your Embassy or Consulate travel advisories carefully. Due to increasing numbers of attacks on Westerners by Jihadists in the past several years, most Western nations advise great caution. Resident expatriates travel between cities by day, in groups and on major routes.

Transport


Citizens of Mauritania have various transportation methods. Railways and highways connect major cities in the country. Mauritania is a coastal country so there are many ports along its coast and there are a few big rivers that run through the country. Lastly, there are 26 airports spread out throughout the country.